---
---
Want confident, glowing skin that makes you feel young again? Now you can restore your skin to its natural youthful look by giving it the deepest cleanse at home WITHOUT spending a fortune!
The BrightPore Vacuum™️ Deep Cleanse Pore Vacuum rids your skin of blackheads, whiteheads, dirt, oil and more. It increases blood circulation, improves elasticity, unclogs dirty pores, and even helps prevent future breakouts!
After use...
92% see smaller, cleaner pores
94% say it revitalizes their skin
95% say it cleanses oily skin
Extra Strength Suction
The BrightPore Vacuum™️ Deep Cleanse Pore Vacuum features 3 suction levels depending on your skin type, needs, and personal preference. It will suck all the yuck right out of your pores, leaving your skin clean and healthy!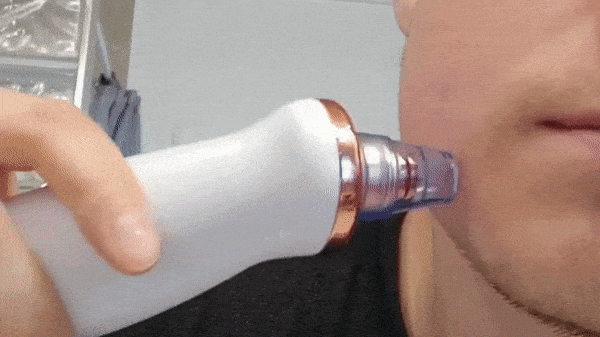 About the Model "pore vacuum"
This model helps in exfoliating, firming, removing blackhead, pore cleansing in one. different levels suction intensity for different needs. 
This Model adopts high technology combo of diamond microdermabrasion and vacuum extraction to help you reduce blackhead , acne,exfoliate dead skin, and treatment for the sagging skin and wrinkle, skin Rejuvenation, 
Safe and Durable Material:ABS material is environmental, safe, non-toxic and harmless to your skin.
Suitable for different skin, offer's different functions and offer a deeper clean for your facial skin. The levels data and electricity of the machine will show on the LED screen to display different mode clearly.
Function & Effects
Microcrystalline head: The probe with microcrystalline particle with high adsorption, In the condition of not hurting skin, this probe can massage and exfoliate skin. Suitable for any area on face, except around the eyes.
Large size circular form probe: Suction is strong, for oil and blackhead have a significant effect. Can lift, massage skin, stimulate the blood and lymph circulation. Suitable for any area on face, except around the eyes.
Small size circular form probe: Suction is weak, it can be used to clean pores. Suitable for fragile and sensitive skin.
Oval head: Stimulate micro circulation to operate, lifting and massage skin, prevent the growing of fine lines. 
How to use: 
Open up the pores by steaming or bathing when you using the facial pore cleaner. 
Open the machine and move the device slowly. Then the acne and some blackheads will come out. If the blackhead is deep please apply with blackhead educe liquid. 
Please don't stay in one place more than 2 seconds when using it in order to prevent from hurting your skin. 
After cleaning the pore you can using the skin toning to minimize pore.
Warm prompt: 
 Don't use it on scarred skin.
 Don't wash the device.
 After use, use cotton swab with alcohol or cleansing cream for cleaning it.
 Always clean the nozzle before and after use.
 Wash the nozzle in water.Also please use the facial toner on face after use.
important message:
Use 1-2 times a week, after 3 weeks will see good results,Please give it time and care. 
Don't push too hard on your skin because Pore Vacuum Extraction Tool has strong absorption capability. 
Please tolerate the LIGHT BRUISING & REDNESS. It's completely normal in the beginning!
But it's worth it! It gets slightly worse before it gets better! 
Power Source: Rechargeable Battery
Item Name: Pore Vacuum Suction Beauty Machine
Certification: FDA, CE
Type: Blackhead Removal device
*FREE SHIPPING*
---